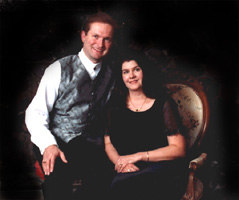 Mark Hanson - Associate Producer/NAD Records
Mark Hanson is an active member of the church community, currently applying his musical talents as choir director/production director at Christian Life Center in Dayton, Ohio. Along with his wife Lisa, Mark has maintained a singing ministry and, as winner of the Florida Gospel Talent Search, has recorded an album of contemporary Christian music. Lisa shares Mark's musical and ministerial calling as well, holding a bachelor's degree in music education and performing as a soprano soloist and pianist.
The couple currently resides in Dayton, Ohio with their four children, Alyssa (12), Lindsay (10), Mark II (6) and Tyler (2).
Mark Hanson began his musical studies at the age of nine and continued throughout high school. After graduation he accepted an academic scholarship to attend the University of Miami in Coral Gables, Florida where he studied music theory/composition, vocal performance and music education. Within three years he became student conductor for the internationally known University of Miami Singers, (Lee Kjelson, conductor) and was able to see his original songs, arrangements and pop medleys performed all over the world including Canada, Korea and Hong Kong as well as the United States, including Hawaii.
A fine vocalist, Mark has performed as a studio musician and professional soloist in Miami, Florida and Cincinnati, Ohio and is in high demand for his lyric tenor voice in both the classical and popular genres, having twice accepted invitations to perform at Carnagie Hall. A talented writer and arranger, Mark has published over 50 arrangements and original compositions with Columbia Pictures Publications/Warner Brothers, Inc. and is committed to producing sound, yet stylistically correct choral literature for the vocal ensemble. This commitment is reflected throughout his work and has afforded him a large amount of commissioned material including large-scale productions, reviews, pop chorals, original materials and orchestrations for high schools, colleges and churches.
His talents are currently being realized in the arranging/scoring of "Talisman", a musical production which has involved the Walt Disney World Organization and is currently under consideration for performance off Broadway.